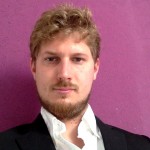 I am a postdoctoral fellow at the University of Geneva (Switzerland) in the Geneva Symmetry Group and in the project Space and Time after Quantum Gravity. I'm also an associate member at the University of Rennes 1 (France). I received my Ph.D. in philosophy at the University of Rennes 1 under the supervision of  Pierre Joray (University of Rennes 1) and Jiri Benovsky (University of Fribourg, Switzerland). I teach philosophy of science, metaphysics and logic. My research interests are in theoretical philosophy (metaphysics, philosophy of science, philosophy of physics), mainly on time and space, modality, mereology and material objects.
baptiste.lebihan at unige.ch
News
Call for Paper: 2017 Prize competition for essays on Space and Time After Quantum Gravity. All information here.
2016. 'Super-Relationism: Combining Eliminativism about Objects and Relationism about Spacetime', Philosophical Studies 173 (8): 2152-2178.
2016. 'Les propriétés du vide et de l'espace-temps', Philosophiques 43 (1): 49-66.
2015. 'No Physical Particles for a Dispositional Monist?', Philosophical Papers, 44 (2), 207-232.
2015. 'The Unrealities of Time', Dialogue: Canadian Philosophical Review, 54 (1), 25-44.
2014. 'No-futurism and Metaphysical Contingentism', Axiomathes, 24 (4), 483-497.
2013. 'Why a Gunk World is Compatible with Nihilism about Objects', Studia Philosophica Estonica, 6 (1), 1-14.